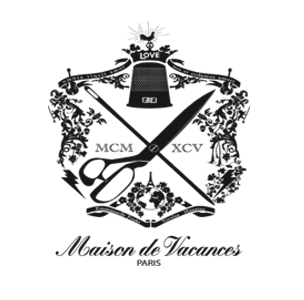 Maison de Vacances is an independent French company founded in 1995. Led since 2000 by Emmanuelle Fouks and Nicolas Mauriac whose experiences as fashion stylist and artistic director have made them particularly aware of the evolution of trends and lifestyle.
 Dress up your home as you like to dress could be their slogan.
Maison de Vacances products are made in France in the most precious and noble materials. Fabrics, furs and leathers in vegetal tanning are severely selected and patiently developed in Europe. They must simultaneously offer a strong visual effect and full satisfaction to the touch. It is a style made for all those who like to play with colors without giving up the virtues of materials. With the backdrop of the natural linen certified Master of Linen, and whose environmental qualities are no longer to be demonstrated. Of course, all "Maison de vacances" branded products are exclusive.
The style of the house is first and foremost a lifestyle. A life where desire can be a necessity; where luxury has a bohemian air and regains a sense of humor. Modern, contemporary, it is in the colors of life. Changing with the seasons, open to all horizons, in all circumstances, he must know how to follow those who adopt him, submitted to their desires.
It is based on the combination of the noblest and trendiest materials with its natural raw linen. This backdrop allows to juxtapose all the colors and textured materials, like a painter on a painting, and thus to change scenery day after day without ever losing the thread of history…
Being able to manufacture in small series by maintaining a constant quality and special know-how, thus multiplying materials, colors and sizes, remains the best way to preserve a true freedom of creation and offer a real choice to customers. From hand-made saddle rafter stings to custom finishes, Maison de Vacances strives to make every product unique, so that every home can be unique.
₪

12,460

Designer: Maison de vacances

Boho Daybed is perfect when your space needs an additional talking spot other than a sofa or when you need to take a nap. Boho Daybed provides excellent comfort.

The structure is in massive beech wood and particle board. The seating part is supported by a double system of combined springs placed under a thick layer of silicon balls. In order to provide a perfect comfort, the seat cushion is made of three layers: high resilient foam, a layer of silicon balls covered with encapsulated feathers.

Fully removable covers