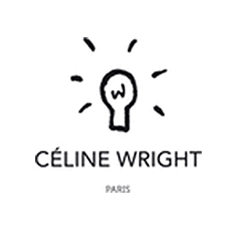 "A sensitive and poetical approach,
firmly entrenched in nature,
and respectful of the art of handmade goods."
For Céline Wright, « the work done by hand is the only non-polluting human energy. » All her hand-made objects are created by blending ancestral techniques using natural and non-polluting materials, requiring different types of special manipulations. Each light is a unique piece. In this way, the designer has created a true « cottage industry. » Molded and structured by hand, « one casting of the cocon can be composed of over 1600 bands of paper, individually glued to the mold. Its creation can take up to 7 hours of work» tells the artist. The cocon is solid and unbreakable and diffuses a soft and pleasing light.
The Paper
Celine Wright restores the reputation of this 'forgotten material' in our industrial society. Washi, Japanese paper distinguishable for its whiteness, possess numerous virtues little known in Europe: resistant and translucent, it allows for the creation of enormous lights with an extreme lightness; Cirrus, a light of 2m20 weighs less than 5kg. Delicate and functional, it illustrates perfectly the fable of the oak and the reed, the apparent fragility of the paper does not leave transparent its resistance.
Bedroom Design

,

Bedside lamps

,

Brands & Designers

,

Celine Wright

,

Celine Wright paper lampshade

,

For Her

,

Giftable lights

,

Gifts

,

Hand Made Craftsmanship

,

Lighting

,

Moon lights

,

Popup shop

,

Table & Desk lights

,

Table lamps

₪

2,129

Design by Celine Wright

Planets Floor Lamp has a delicate and mineral shape, it diffuses a lunar and soft light around your table, perfect as a bedside lamp.

Paper ball offset and fixed by a stainless-steel rod like dewdrops on a grass stalk. The polished stainless base reflects the moonshine like a mirror of water.

This handmade lamp is made of the noble material Japanese paper, which has a magic transparency and is very resistant.