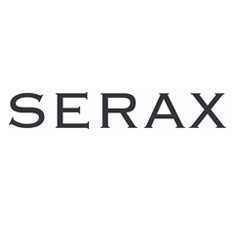 Serax is the brainchild of Serge and Axel Van Den Bossche. Two brothers who were brought up amidst the flowerpot trade in their mother's business.
Over the past thirty years, the small-scale business that started up in a garage in 1986 has grown into a multi­national with over 65 employees and a head office in Antwerp.
Serax enhances your home, adds personality to your interior, and creates unforgettable moments at the dining table.
Relying only on the most passionate designers from all over the globe, it produces traditional handicraft.
From Vietnam through Antwerp to Portugal, our items are manufactured by skilled craftsmen who respect the basic idea of each design. Our collections are unique for their shapes, materials and style.
Serax looks for beauty every day, for the good things that make life worth living, the things that create a home that inspires happiness.
To experience, to share, and to discover.
Around The Table

,

Brands & Designers

,

Cutlery & Service cutlery

,

Cutlery collections

,

Gift box cutlery

,

Holiday Table

,

Popup shop

,

Selected items on sale

,

Serax

,

Service cutlery

,

Summer table

₪

1,540

Design by Roos Van de Velde for Serax

Roos Van de Velde's ultra-light Flora Vulgaris cutlery collection has that unmissable link with Nature. The name alludes to the rather 'wild' and intuitive way in which the cutlery was given shape. Forks like branched twigs, spoons featuring endless leaf shapes and knives looking like shells.

The colours, the material, the design, and the interplay of lines are a natural addition to a wonderful table setting.

The Flora Vulgaris cutlery set includes 6 forks, 6 knives, 6 table spoons and 6 tea spoons.