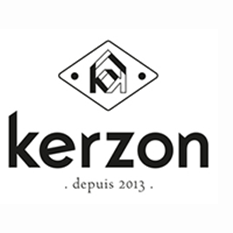 Kerzon is a family adventure, a beautiful complicity between two brothers, Etienne and Pierre-Alexis. Inspired by the fragrances of their family home, the creative duo has combined olfactory sensations, memories from travel, and a passion for craftsmanship to develop natural care products for the home, the linens, and the body.
NATURAL RAW MATERIALS
and good ingredients
Our fragrances have elicited your finest memories by revealing scents that remind you of happy times, based on natural raw materials and good natural ingredients. Take a walk in the forest, make a garden, have a coffee, go to the bakery, stroll on the banks of the Seine River, offer a bouquet of Mimosa or have a drink with friends…
Each collection is conceived with quality natural ingredients and employs environmentally conscious French production methods without any animal testing. Composed in Grasse by one of France's oldest living heritage companies, the scents are the heart of our collections, designed with our passion for inspiring stories and the patience of its craftsmen. Our treatments are formulated in France with clean raw materials and ingredients of natural origin, which are approved by organic cosmetics. Without compromising on the pleasure of use, we guarantee simple compositions based on healthy active ingredients that are essential for the skin. Our desire for excellence always pushes us further searching for sustainable and affordable cares, fitting your needs and desires. Just what it takes to strike a balance between functionality and humanity !
₪

218

Made by Kerzon

Crafted beneath the sunshine of Southern France with patience and passion, KERZON fragranced candles are made with all-natural wax.

Flâneries à Paris  

Paris is one big party! In the world's most beautiful city, each memory has its own fragrant counterpart 

When the day's first sun beams heat the stone mansions of the banks of the Seine. The Ile Saint-Louis candle reveals a mineral and woody fragrance with an aquatic head and patchouli heart, on a woody vetiver background.

OLFACTORY BLEND: vetiver & patchouli